Indian Footwear Retail Industry
Source: IMAGES F&R Research, INDIA RETAIL REPORT 2007
Footwear is a necessity to every person and at the same time is now a lifestyle as also a performance enhancement product; and is thus a segment with vast potential.
The Indian footwear market is estimated to be worth Rs.13,750 Crore and constitutes just about one percent of Indian retail. About 37.8 percent of Footwear retail is in the organized segment, which qualifies it as the second most organized retail category in India, next only to Watches.
Men's footwear comprises the largest share of the organized market accounting for about 52 percent in value terms.
As footwear retailing in India has remained focused on men's shoes, there exists a whale of opportunity in the exclusive ladies and kid's footwear segment. This is especially surprising as women globally in line with global trends are the key decision makers for buying footwear. The ladies footwear segment still remains the most untapped as nearly 80-90 percent purchases happen in the unorganized market largely due to the dressing habits of women for whom consideration of durability or comfort are less important than colours and designs that go with dress.
With the Indian woman becoming more brand-conscious as opposed to the past state of being product-conscious, more and more internationally renowned players are expected to enter the Indian market to fill this need-gap.
Volume Share of Products Segments in Footwear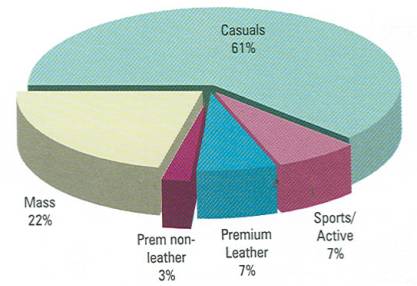 The children's and kids' segment also accounts for a significant share due to the increased emphasis on sporty looks. Given India's very young population, the market for children's footwear is also attractive for new organized players to enter and earn supernormal profits.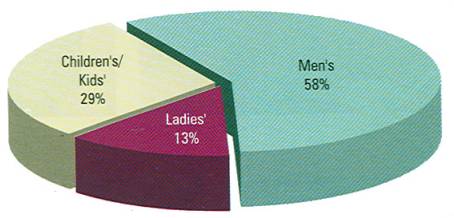 The footwear market today is showing a trend where more and more competitors within the segment are coming together and forming alliances through cross-promotions and tie-ups benefits for enhanced reach and offering the consumer access to a wider range of products and brands.
The London-based Carlton group became the first overseas player to enter the Indian women's footwear market when it set up its first store at the MGF Metropolitan Mall in Gurgaon recently.
Growth of Indian Footwear Retail
( Value Rs. Crore at 2003-04 Prices )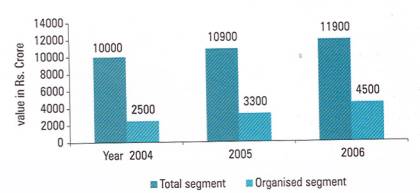 The entry of specialty sportswear retailers such as Royal Sporting House, Sports Station and Planet Sports providing the best shopping experience for customers and a platform to showcase the world's top sports and active lifestyle brands has transformed the organized retailing scenario in the country. Royal Sporting House has over 40 stores in India, many of which are placed in prime locations within shopping malls. It is the exclusive distributor of brands such as Mizuno, Caterpillar, TYR, Dunlop Sports and non-exclusive ones such as Reebok, Adidas, Nike and Skechers. Planet Sports, with 20 outlets in the country, is the licensee in India for leading sports brands such as Puma, Speedo, Converse and Wilson, among others.
The sportswear market is the only sector in India that has the presence of all three top international brands. The year 1996 witnessed the entry of Nike, Reebok and Adidas that gave a new dimension to footwear and fashion retailing in the country. Playful promotion campaigns, world class merchandising and the internationally styled stores enthused consumers to go for an extra pair of shoes and a couple of extra Tee Shirts and add a little bit of sporty images to their lifestyle.
In the face of increasing competition from leading multinational players, domestic footwear retailers have also woken up to the opportunity that the segment beckons and are realizing that exposure to shopping standards abroad have made Indian consumers demand the same formats and experience here. Responding to this challenge, major domestic players like Bata and Liberty have significantly transformed their retail formats to become more lifestyle- oriented and are positioning themselves as vibrant and contemporary Indian brands.
In recent years the market has seen entry of a host of new domestic and foreign brands like Drish, Lotto, Lotus Bawa, Now, Oakridge, Royal Elastic, Sketchers, Teenage, Teva, Timberland and Vans. Fashionable brands like Stryde and Red Tape and MNC brands like Allen Cooper, Franco Leone, Gaitonde, Gucci, Guess, Lee Cooper, are further developing the market by creating new segments.
Source: IMAGES F&R Research, INDIA RETAIL REPORT 2007
-------------------------------------------
In a Makeshift and Make-Believe World
9 Feb, 2008
It is almost a year now that Indiaretailing has been echoing the fact that whatever is being said, heard, or seen about organised retail in India, the 'opposite' of that is equally true.

Organised and unorganised, steel carts in stores and push carts on roads, POS-generated bills and handwritten parchis, high-quality branded goods and fakes sold by nobodies… every business activity has a parallel identity in India.

In their effort to put the best foot forward while balancing their steps on these seemingly endless dichotomies, Team Indiaretailing's vigilant eye came upon some of the leading footwear brands that are being sold at throwaway prices in Sarita Vihar area in the NCR. Temporary kiosks and ragged racks have been set up in front of what used to be branded outlets, which were sealed by the Municipal Corporation of Delhi (MCD) a few months ago, tagged as 'unauthorised construction'. The surprising makeshift arrangement in front of these closed shops primarily sells footwear, and on offer are almost all the known brands in India.

Are they originals, counterfeits, or smuggled worthies? If they are counterfeits, who's making them, and how dare anybody spoil the brand's credibility? Do the brands know about this? Is it that brands are dumping their overproduced or defective products here? TI ventured into the hazy areas engulfing the issue.

According to Images F&R Research, the Indian footwear market in 2006 was estimated to be worth Rs 13,750 crore. About 37.8 per cent of footwear retail is in the organised segment (Rs 5,200 crore at 2006 prices), and this qualifies it as the second-most organised retail category in India. The segment has seen over 100 per cent growth in the two years from 2004 to 2006.

The statistics obviously did not have anything to reveal on the parallel markets.

The more one tried understanding this parallel business, the more complicated it seemed to become. Hence, in the wisdom of the moment, TI here presents the picture as it emerges, and the sequence of activities and varied opinions that it came across, leaving the balancing and the understanding part to whosoever can understand better.


TI Action

 January 30 to February 5, TI has been observing, talking to, recording and photographing the operations of 'brand breakers' in the NCR region.

 February 5, Indiaretailing shoots mails (scene pictures attached) to leading footwear brands intimating them about their continuous branding efforts being compromised by a few transgressors, who are selling what are probably counterfeits or smuggled products under an array of brand names right in front of their closed shops, which, however, still have their forefront boards on. Brands were also informed that these are selling at less than half the actual price, and, moreover, bills are being provided to authenticate the sale.

The mail also quizzed brands about their stand on the unlawful practice, and also the measures they would take at their end to counter the problem.

The idea behind intimating brands before putting up the issue in public domain was not just to pass on the information, but also to understand the extent a brand can go to protect its image and loyalty of the customers built over the years. Also, it was an effort to express TI's concern for counterfeit retailing.


Action vs reaction

Newton was right. The TI action received an equal and an 'opposite' reaction. Brands reacted, objected, justified…

February 6, Andreas Gellner, managing director, Adidas India Trading Pvt. Ltd, called up TI and appreciated its efforts. Sharing his concern on the issue, he said, "We've been in the market for almost a decade and been hearing news about counterfeits of brands being sold in different areas of the NCR. In this case, sometimes the brands are helpless, as they can't keep vigil all over. It is the duty of the law-enforcement agencies to keep a track and take stringent action."

Commenting upon the particular case that is this feature's focus, Gellner said, "Firstly it is obvious that they are selling fakes as our brand cannot land in such hands; secondly, they are cashing in on the brand's credibility by selling in front of the closed shops."

Bata, one of the largest footwear retailers in the country, not only expressed surprise, but also went into action mode. The company took the initiative of investigating the matter itself, and is planning to take legal action against the ones involved in hampering the brand's image.

In an emailed reply to TI, Bata maintained that the store, in front of which the footwear in question is being sold, is not the company's outlet, but of a footwear dealer who is using the Bata board without any authority. Roadside sellers are befooling the customers under the brand's banner to sell their wares.

Manoj Chandra, vice president of marketing and customer service at Bata, stated, "We stand by the goodwill and reputation of our brand and retail stores. Such activities by unidentified men are irresponsible and can very well harm our brand. We appreciate the TI research and will take appropriate measures to control this undesired practice."

Subhinder Singh Prem, managing director, Reebok India, said: "There have been such incidents in the past when we found counterfeits being sold in various areas. There's a particular process involved in tackling such situations. Our legal departments take stringent action if such a case is brought to our notice. We have conducted raids at sellers and also manufacturers in the past. But this seems to be a never-ending situation as these people start functioning for some time and keep shifting bases."

However, Prem was not aware about the Sarita Vihar scene. When informed, he said that the company will take all preventive measures to protect the brand's image.

Other leading footwear brands also voiced similar opinions, though they wished to remain off-the-record. They agreed that such activity is not only an obstruction to their brand-building process, but is also a criminal act.

Another interesting detail was revealed by some of the brand representatives. They admitted to being actually concerned about the fate of those who once operated those closed shops, and providing them with cheaper, discardable products to sell cheap. However, they maintained that they take off the brand's tags and do not authorise anybody to use their brand name.


Yessir, they have their story, too
The depth in the truth, they say, is subjective; however, nothing can be an absolute lie either.

Here are some abstracts of TI's conversation with some of the sellers who claim to be the owners or the employees of the sealed shops.

"The shops that were here were our only source of income. Now that they are sealed, where are we supposed to sell such branded products? Who is going to feed our families?"

"The government had turned a blind eye when those shops were being built. They did not open their eyes all the while this market was on full swing. What happened all of a sudden?"

"People will say whatever they have to, but these are all original brands. We used to sell the same products through properly organised shops before they were sealed. And yes, we do provide the bill for whatever we sell."

"We have stocks of branded products, but no place to sell. So, to do away with the extra stock, we sell them at lower prices."


No conclusion

Neither party is shying away from taking a stand. Even as the perimeters of 'organised' and 'unorganised' remain fused in the context of Indian retail, it is quite inevitable that in the meantime, the gaps will be exploited. While legislation and copyright issues await clarity, brands themselves must abide by the code of brand identity – in the heart of which lies an irrevocable promise of goodness, quality and faith.

By Ranjan Kaplish and Nabeel A Khan
Original Text From http://indiaretailing.com/news.asp?id=1611&topic=3

Indian Footwear Industry | Indian Leather Industry | Associated Organisations | Footwear Retail Industry |Footwear Manufacturers' Directory | Footwear Component Industry |
Import & Export | Major Production Centers | Statistical Information |Brief Description of Industry | Global Statistics | Environmental News | Indian Ambition | Global Conferences | Footwear Dictionary| Recession Issues | Industry in a Nutshell | Question Answer Area |
Footwear Industry News | Mailing List | Chat | Industry Related Archieves | Mobile Zone | Industry Events Info | Shoe Sizing Systems | Indian Ethnic Footwear | Human Resource |
New Technological Developments | Employment Scenario | Global Footwear Industry | Other Resources | Search